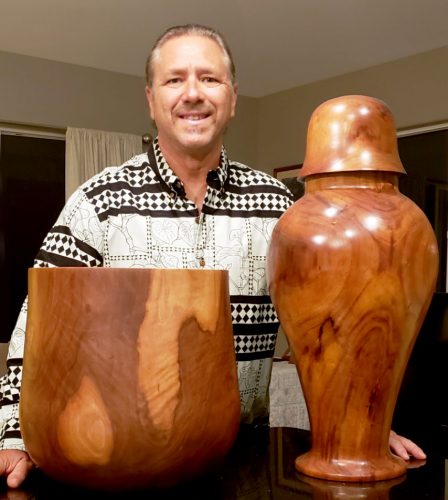 Hawaii born artist Syd Vierra comes from a large extended Hawaiian/Portuguese family that is state wide, and well known. His family moved to the San Fransisco Bay area were Syd enrolled in art classes and excelled as an art student. He learned the importance of shades, shadows, lines and forms, as well as perspective drawings and proportions. As early as grade school Syd has been doing free hand art work.
Today Syd enjoys photography and believes that the rules that apply are the same. When it come to lighting, shades, and shadows Syd believes artwork and photography are parallel, and are connected.
As many art collectors know, Hawaiian wood products are some of the most beautiful objects of the wood turning art. Part of the reason is the beauty and variety of the woods growing in Hawaii, and part is due to the skill of the individual artist. Syd has been wood turning since 2001 and has become one of Hawaii's leading artists. He has developed his own style of art by using aniline dye's that are applied like no one else. Through trial-and-error Syd produces one of a kind pieces. Because of Syd's Hawaiian heritage he does stay true to his cultural background. Syd is well known for his traditional Hawaiian forms, the (Hawaiian calabash) which can found at the Honolulu Academy of Arts.
Artist's Statement
I've been a woodturner/artist since 2001 and a member of the prestigious American Association of Woodturners which is over 10,000 members strong. I'm an active member of the local chapter, known as the Big Island Woodturners (B.I.W). I have attended one- and two-day demonstration classes by some of the top woodturners in the nation and the world. I enjoy all aspects of woodturning/woodworking and it is my joy to bring my finished works to you.
I've entered many shows and have done well. As a successful artist, I remain humble and feel very blessed to have such a gift. To date I have produced over 1800 bowls. I've been commissioned by the local Harley dealer to make koa trophies and commissioned to make lamps, toys, and furniture.
I've never been motivated by fame or fortune, but by simply having the ability to produce something beautiful with my hands, and a great love for woodworking. I'm always willing to take time to teach my skills like tool sharpening, tool control, and shapes and forms to those that need help and are just starting out.
I often get involved with local charities by donating bowls that are auctioned off to raise money, I've raised many thousands of dollars and would like to raise more. I'm currently working on a project to make toys for children that are in need here in the state of Hawaii as well as children at Saint Jude's Hospital.